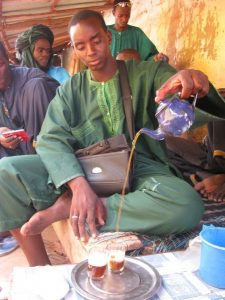 Food-grade enamel tea pot*
Used across North and West Africa for preparing herbal teas and green gunpowder and jasmine tea.
Here for offer in three sizes and in many colors.
Large pots serve 4-6 small tea cups.
Medium pots serve 3-5 small tea cups.
Small pots serve 2-3 small tea cups.
These are our favorite pots, they hard to come by.
Support Senegalese tradespeople with this purchase.
** Please note: There may be slight imperfections because these are one of a kind, each one unique, but pot is fully functional and full of character. Prime pot before use by boiling water and pouring out to seal enamel. Also, because of unusual shape of teapot, there is a small addition to shipping charges for these products.