2019 Premium Organic Ginseng Taiwan High Mountain Oolong, a supreme high grade quality.
This is not just a delicious tea, this is an elixir for aspiring immortals. This is the 5 star emperor's elixir that combines the celestial Chi of Taiwan's high mountains with the finest grade mountain harvested wild ginseng. We are a small company, and we don't invest in too many products to sell bulk, we only purchase what we would use ourselves, and only sell products that we full-heartedly endorse. This is such a tea. For a general energy problem to sexual virility, this tea packs a punch of stimulation, with benefits to kidneys, blood, heart, and cholesterol. This is a perfect oolong for men and women, but especially good for men who want a bit of zip for erotic sessions or to be sharp, and bursting with power on the job. The sweet floral notes of the oolong merge with the tingling ginseng notes, and this is a fine evening brew to help busy couples find the energy to express their love after the kids have gone to bed. A seriously delicious and dynamic infusion. Try this one for your next round of sexual gong fu!*
*These statements have not been evaluated by the Food and Drug administration. This product is not intended to diagnose, treat, cure, or prevent any disease.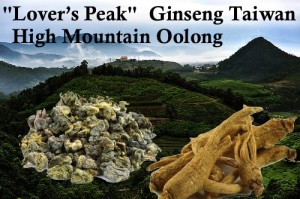 $18 for 4oz. bag