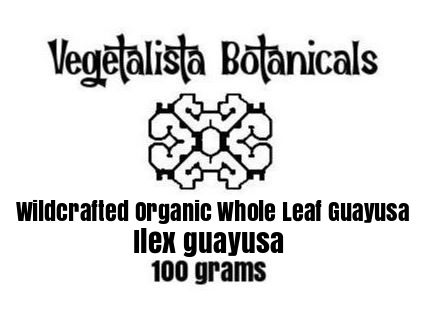 Wild Organic Whole leaf Guayusa Ilex Tea 100 grams Wayusa, Runashimi, Aguayusa.
A Peruvian stimulant herb, that is great to use in the dieting for fasting and detox, but is especially good for mixing with other herbs for invigorating tea or by itself. The Quechua make a boiled tea with this leaf that is stimulating, giving clear focus and concentration but not causing the crash or stomach issues as with coffee. It is related to Yerba Mate, and one of three plants in the holly family that contain caffeine, and it contains more than other plants. This is a hunter's herb for chasing nocturnal game traditionally, or to wake up and be alert for war and seeking food. Potent and Fresh whole herb, artisan batch limited supply.
The shamanic sickness embarked us on an initiatory journey for herbal medicines, initiations and insights into the mysteries. Along the way we met many masters, herbalists, shamans with extraordinary wisdom. The best of human adepts can merely point you to the botanical teachers, and show you the ancestral ways to use them safely and with respect and honor. It is with great joy we have reunited with the some dear plant spirit companions through our old hermit herbalist friend who has emerged from long seclusion with the freshest, powerful sustainably harvested jungle medicinal herbal. So much became disturbed by shamanic tourism so our teachers withdrew to more remote areas. We hope to help them as part of our worldwide guild of Masters we support through fair trade for superior quality, artisan, products. Support a South American fair trade permaculture jungle farm with your purchase! We thank you.