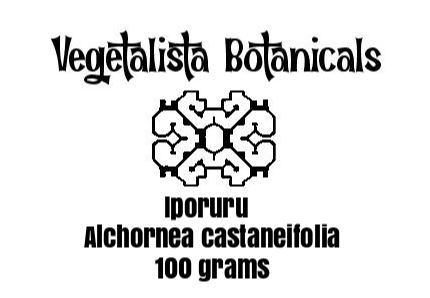 The shamanic sickness embarked us on an initiatory journey for herbal medicines, initiations and insights into the mysteries. Along the way we met many masters, herbalists, shamans with extraordinary wisdom. The best of human adepts can merely point you to the botanical teachers, and show you the ancestral ways to use them safely and with respect and honor. It is with great joy we have reunited with the some dear plant spirit companions through our old hermit herbalist friend who has emerged from long seclusion with the freshest, powerful sustainably harvested jungle medicinal herbal. So much became disturbed by shamanic tourism so our teachers withdrew to more remote areas. We hope to help them as part of our worldwide guild of Masters we support through fair trade for superior quality, artisan, products.
Fresh ground powder, we use this a lot in our practice and is ground fresh (low temp. with ceramic blades) every month and shipped ultra fresh.
Iporuru – Alchornea castaneifolia
Another potent but gentle teacher plant from the Amazon, a favorite with the indigenous people their for many uses from bodily pains, colds to shamanic uses in the ceremonial fasting with the more potent entheogens. It is used as a decoction for arthritis and rheumatism and coughs and widely as libido enhancement in males. It is also used for joint problems and balancing blood sugars. Its anti-inflammatory effects have it increasingly popular for athletes. It is used in dire health issues as well, but we can make no medical claims. It is a very good herb to have on hand for one's apothecary, a potent tea can be used for pains from joints to muscles as well for impotency. Tradition uses are for infusion, place 3 teaspoons powdered leaves in a tea ball or gauze bag and allow the powder to steep in 2 cups of freshly boiled hot water in a covered ceramic pot for 10–15 minutes. Pour the infusion through a fine strainer to remove any sediment and allow it to cool for a time before drinking. Refrigerate unused portions in a well sealed container.
We make no medical claims and these statements have not been evaluated by the FDA.